Welcome Friends,
It's my privilege to extend a very friendly welcome to you on behalf of our entire staff; we sincerely look forward to being a great source of pain relief as well as encouraging your overall health. You will quickly become a welcomed member of our family of satisfied patients. We treat a wide variety of conditions using the best combination of traditional chiropractic technique and the latest in innovative car
We take great pride in the positive environment we have fostered together as a team here at Orano Chiropractic, rest assured we will do everything we can to make your visit a wonderful satisfying experience. We look forward to serving you!
About Dr. Christian V. Orano
Dr. Christian V. Orano is a board-certified Chiropractic Physician based in Michigan. In 1999, he became a certified EMT by the National registry emergency medical technician. He then completed his undergraduate study at Oakland University in 2003 and earned his Doctor of Chiropractic degree at Palmer College in Florida in 2007. He is also board certified in Physiotherapy and completed advanced training in sports chiropractic. He served as the Team Doctor for the S.E. Michigan Mercenaries Football Team.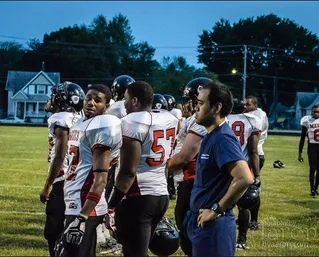 In practice for over 12 years, Dr. Christian Orano has helped thousands of people alleviate their pain and restore health through traditional chiropractic care and the most advanced treatments such as Decompression and Laser Therapy. He was awarded Top Chiropractor by the Hour Magazine from 2014 - 2016.
Dr. Orano is a strong supporter of the community. He served as the Chairman CAPA Community Service. He is also a member of Macomb County Health Department Medical Emergency Reserve. When not in the office, Dr. Orano enjoys travelling and and being outdoors with his family. He adores his family and loves his community. His mission is to help other families live a better quality life.